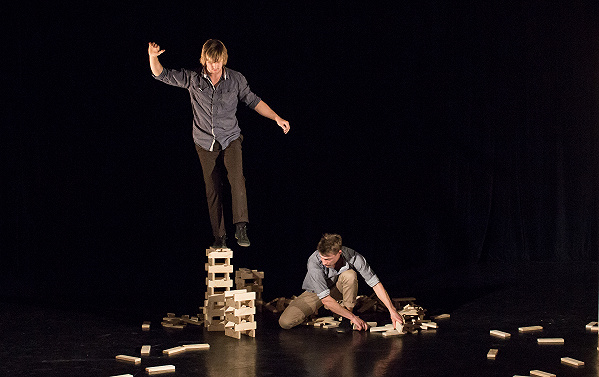 Twice a year TENT offers a place to makers who want to experiment with new circus. TENT offers the use of the studio for a week and a small budget. The maker is asked to present a clear research question. They can experiment without the need for a concrete result or presentation. Several LABO'S have already developed into copoductions or special collaborations. Would you like to do a LABO in our studio, send your research question and desired period to hanneke@tent.eu.
For 2018 the following LABO is to come:
Klub Girko
15/01/2017 - 21/01/2018
122 x 244
On their last day in the studio, Sunday 21 January, Klub Girko will give a presentation at 15.00 h. If you want to be a part of this, please send an e-mail to Julian Vogel.
PREVIOUS LABO'S
—
Hendrik Van Maele
20/11/2017 - 27/11/2017
Actie in circus - circus in actie
—
Collectif Rafale
18/9/2017 - 25/9/2017
Sanctuaire Sauvage
—
Floor van Leeuwen
8/12/2016 - 22/12/2016
How we carry each other - 2
—
Thomas Falk
31/10/2016 - 4/11/2016
Research on movement in acrobatics
—
Floor van Leeuwen
9/11/2015 - 13/11/2015
How we carry each other
—
Ingejan Lighthart Schenk
5/01/2015 - 7/01/2015
Where circus and text theater meet
TENT studio, Amsterdam, Nederland
t/m |
TENT STUDIO, AMSTERDAM, NEDERLAND
t/m
TENT STUDIO, AMSTERDAM, NEDERLAND
t/m