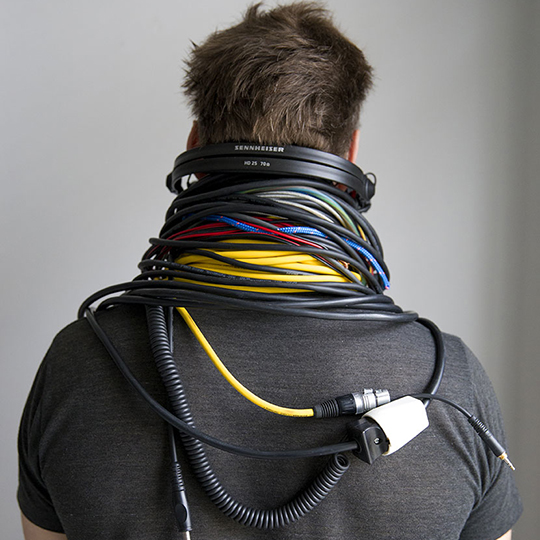 JACK 2020-2021 | info: cahit@tent.eu
In Being Benjamin was Benjamin still on stage, in JACK he is purely the director, which means JACK will be his directing debut.
JACK tries to find answers on questions such as 'What is our relation to technology?' 'When is that in our advantage?' and 'When does it make us dependable?' And what does it do to our relations and relationships to people around us?
The title JACK is derived from the jack cable. This is the larger version of the well-known headset connection; the mini jack. De jack-connector originates as a connector in telephone services. In the modern days it is mainly used in music equipment. And that is where the jack becomes relevant to the performance. Because music is an autonomous part of the performance. The musician doesn't play his tunes on a fixed spot, but fills the space just as much as the juggler does. Sometimes the audience watches a busy musician, sometimes they just listen to the music.
JACK isn't about the invisible digital technology made out of radio waves. No, it is about the analogue, touchable elements. Tangibility is an important theme in JACK, because tangibility proposes questions about 'realness'. The realness will be visible and touchable in the scenography, by showing all the elements. So no concealed wires but larges tangles and a technician on stage. This also allows us to talk about the 'realness' of the performance. Because the artists build the whole structure on stage and still present the audience with the possibility to dive into the story.
Juggling is, next to music, a large part of the performance. But only with bright yellow clubs. And combined with acrobatics. The spaciousness of the clubs combined with the other objects on stage provide the juggler with a clear relation to the space. There isn't a direct link between the music, the technique and the juggler, but the juggler can shape a interesting relation towards the space. Until she is also in control of the space, as are the musician and the juggler. In such a way that they can connect, in whatever way possible.
LOCATION small of medium theater hall | DURATION ± 60 min FLOOR 8x8m | HEIGHT minimal 4,5m AGE 8+ | LANGUAGE Dutch or English | PREMIERE October 2020 | PERFORMING season 2020-2021 | SALES FRANCE Julia Simon julia@monkibusiness.nl
CREW
DIRECTOR Benjamin Kuitenbrouwer
PERFORMERS Liza van Brakel | Roel Gosto Vermeer | Carine Gérard
PRODUCER TENT circustheater producties
DRAMATURGY Bas van Rijnsoever
COACH Dick Hauser
RESIDENCYS Werkplaats Diepenheim
THANKS TO Maaspodium | De Nieuwe Vorst | Dansmakers Amsterdam | Korzo
Herberg de Pol, Diepenheim, NL
|
Herberg de Pol, Diepenheim, NL
|