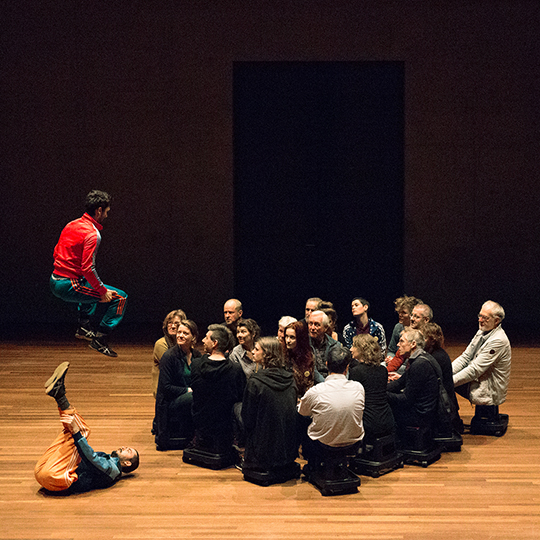 360 2021-2022 | info: hanneke@tent.eu
360 is an acrobatic research performance, a dialog between audience and performance about attention, anonymity and expectations.
The idea for 360 has its origin in Benjamins previous project in collaboration with Hanneke Meijers from TENT: Being Benjamin. In the so called 'stool-scene' the audience was divided in two groups, one group took their seats on stage while the other half watched from the tribune. The group on stage was surrounded by the Icarian acrobatic skills from Théo & Lucas Enriquez. Benjamin & Hanneke felt that this was a little gem and are going to make the concept into a full show.
However, before there is a show there is need for creation. In this case that is only possible with an audience. Empty stools just don't react that much during creation. That's why we decided to do the creation of 360 with a live audience. For the audience it is made clear that the process is still in the research phase. To ensure that the expectations match.
360 will perform three to four times a day on different festivals in the public space. The audience can watch from the side or sign up for a place on the stools. Automatically you also sign up for a specific research question. Every performance focuses on a different question, for example 'What if the audience is constantly moving?', 'What if the audience is centred and the performers constantly move around them?' or 'What if the performers move the audience around?'. This also allows the audience to sign up for multiple performances and experience it differently every single time. Based on the results and the reactions from the audience, the questions will be sharpened the next day.
It is of importance that the researches takes place in the public space, because to perform it 'wide and open' allows for the opportunity to make new audiences curious and enthusiastic to sign up for a next performance. It also makes a connection with one of the substantive themes of 360: attention. It could happen that you as audience member can't see both performers. In the research we want to tease that idea and invite the audience to make a choice. By constantly shifting their attention, they will see less of the performance than by focusing on one point. But that takes trust and acceptance that you also won't see some things.
After these 'research performances' there will be enough material to create a complete show. The research element is left behind, and the research results are melting together into one show, so to speak. The audience knows they are going to see a complete show. The expectation is that 360 will premiere in 2022.
VENUE location theater outside or inside | FLOOR 9x9m | no grass, sand or dance floor | HEIGHT minimal of 3m DURATION ±20 min per research question CREATION PERIOD 2021 | PERFORMING PERIOD COMPLETE SHOW 2022 | SALES & INFO Hanneke Meijers | +31(0)623062985 | hanneke@tent.eu
CREW
DIRECTOR Benjamin Kuitenbrouwer
CO DIRECTORS Hanneke Meijers
ARTISTS Lucas & Théo Enriquez