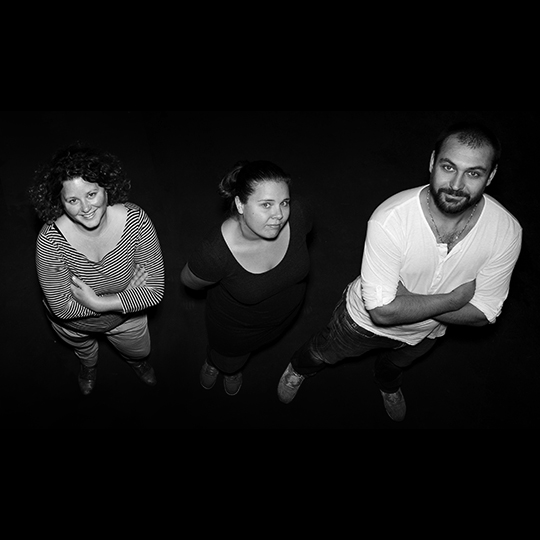 Since its founding, TENT operates as a collective. This is a way of working that is not strange to both the old and the new circus. The collective consist of a team of three people, each with their own background and talents. Since 2010 TENT functions like this as a successful creative producer of contemporary circus. The collective forms the artistic team, which is supplemented with makers connected to the specific projects.
Rosa Boon (1979)
From the first moment Rosa set foot in the old building of Circus Elleboog she was hooked. With the circus she found a place where there is room for everybody, where the sum of individual talents leads to grand magic. Until 2010 Rosa was connected to Elleboog. As participant of the performance group, as volunteer next to her MA studies in Policy of the Arts and since 2005 as producer and fundraiser. Circus theater, an art form where the art of the circus merges with the force of the theatre fascinated Rosa. That is how she developed the wish to produce circus theater of her own. With the advent of circus educations in the Netherlands moreover Rosa saw the opportunity to offer a stage to graduated circus students: the seed for TENT.
Hanneke Meijers (1980)
Almost her entire childhood Hanneke competed as a high-level gymnast, but at Circus Elleboog she learned that creating together is more fulfilling. After studying graphic design at the Art Academy Hanneke began her own company, right after her graduation in 2003, called Hanneke Kijkt ('Hanneke is watching'), which she still runs today. It did not stop her from diving into the adventure of TENT. As a designer Hanneke likes the idea of designing in all facets and achieving a professional look and feel of the company.
Cahit Metin (1981)
At a young age Cahit joined the youth circus Elleboog. Together with Rosa and Hanneke he was a member of the performance group. They all left the youth circus together and afterwards, they all stayed connected to Elleboog. Cahit volunteered at Elleboog next to his technical business education. Soon after starting this education he realized that his heart was more with the circus then with becoming a manager, but nowadays the combination comes in handy. Cahits versatility is very useful within TENT, where he's not only an artist, but where he, amongst other tasks, does the finances.
EMPLOYEES
Rosa Boon
director
+31(0)619876458
rosa@tent.eu
—
Hanneke Meijers
director
+31(0)623062985
hanneke@tent.eu
—
Cahit Metin
director
+31(0)622204834
cahit@tent.eu
—
Nadja van der Weide
office manager
+31(0)644117024
info@tent.eu
—
Thamar Karst
intern
communicatie@tent.eu
—
Tiddo Siertsema
intern (2020)

COACHES 2017-2019
Walther van den Heuvel artistic development
Niek Vom Bruch business development
Maaike van Langen circus development

Boris Franssen marketing development
Joop Kuyvenhoven sales development​

Marc Pil business development