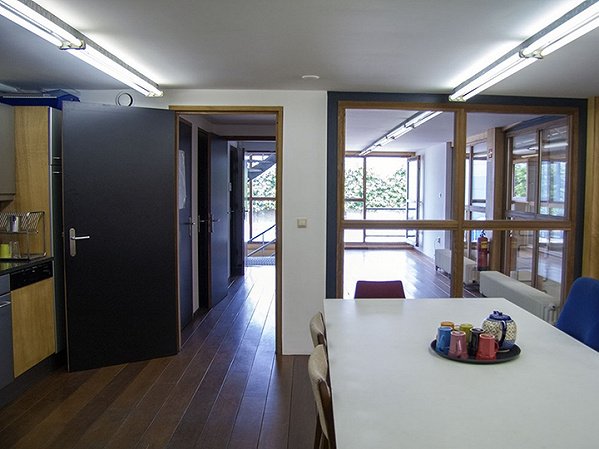 OFFICE TENANT WANTED | ASTERWEG 20H1 AMSTERDAM NOORD
—
Per 01/11/2017 we are looking for a new tenant to share our office space with. The space if big enough for one small company, or for two separate desks. The rental price is €400,- (ex. 21% VAT) per month.
The office space is located on the first floor of the building, and has it's own entrance. The space with wooden floor, is light and pleasant, with big windows. There's a clear view into the shared kitchen and into TENT's training space on the ground floor. Included in the rent is a storage space. The toilet, kitchen wit cooking plates, dish washing machine, refridgerator and lunch/meeting room are shared. Coffee, tea, internet, cleaning and service costs are included. Total square metrage of the office space is 24m2 and 1,5m2 for the storage room. Unfortunately the office is not suited for musicians, sculpturers or other noisy professions. Because of the steel frame construction, overall finish and the wooden floors the office space is somewhat noisy, which you need to be able to handle.
LOCATION TENT circustheater producties | Asterweg 20H1 | 1031HN Amsterdam | Interested or questions? cahit@tent.eu
EXTRA
alarm
guarded terrain
wooden floors
fitted kitchen
lunch / meeting table
free parking
walking distance Amsterdam CS