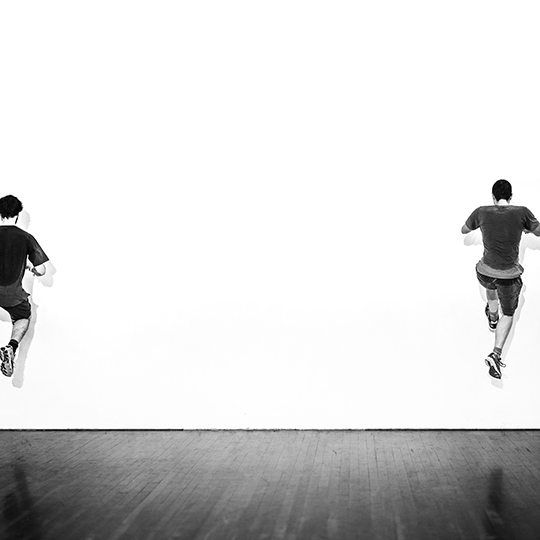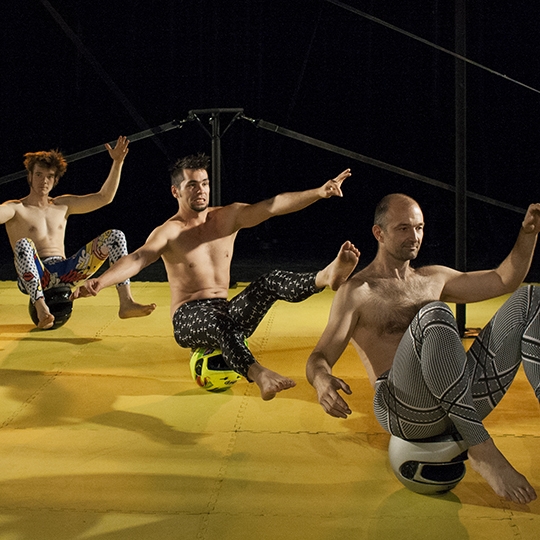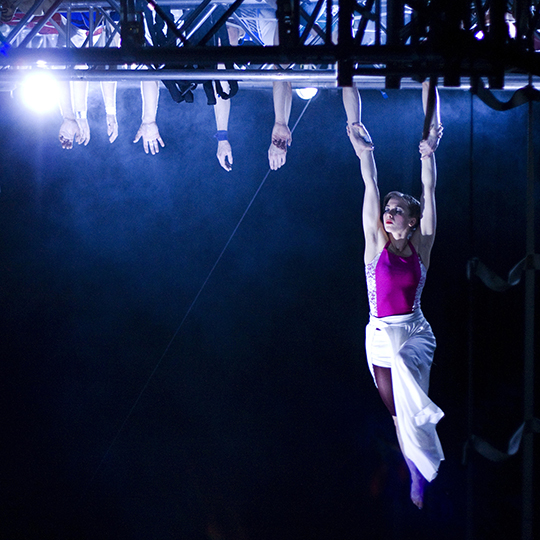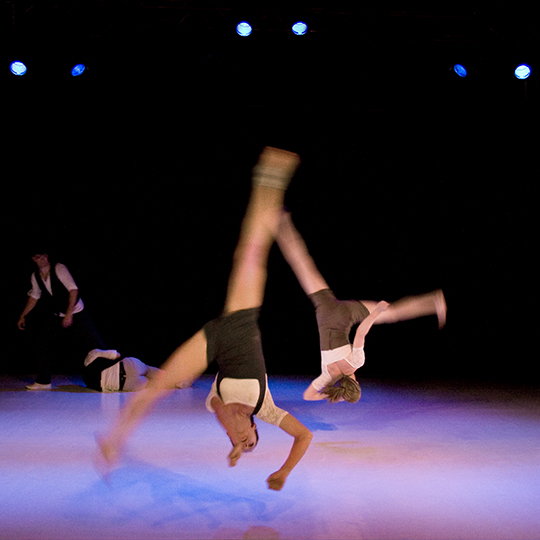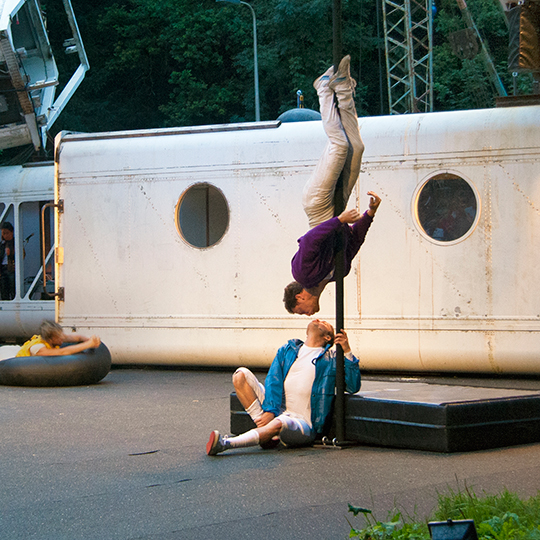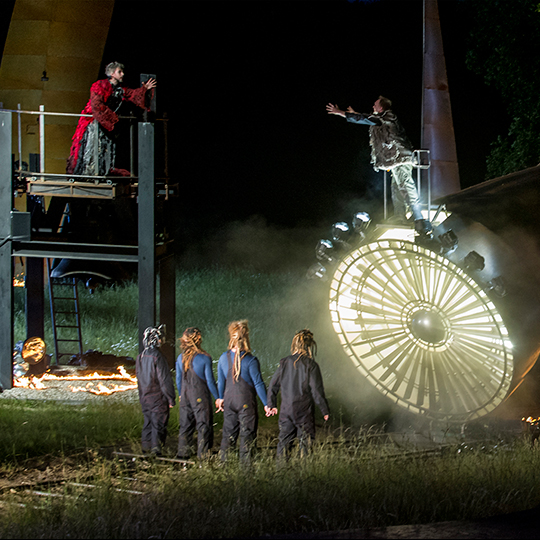 MUUR 2018-2019
Sixteen performers spend two hours moving towards the back wall of a theatre. With a light step, but also with determination. Each performer runs, steps and jumps at his or her own pace, but above all in unison with the others. In a collective rhythm, as a single billowing body. We, the audience, see the wall and the backs of the performers. We hear the rhythm of their feet. We feel the energy of the group. Sometimes wild, sometimes calm, but always with the same sense of determination.

CREW DIRECTOR Floor van Leeuwen PERFORMERS Erwin Boschmans | Josse De Broeck | Elliot Dehaspe | Petra Eikelenboom | Marie Groothof | Koen van der Heijden | Levi de Kleer | Renier Leenders | Maria Madeira | Hendrik van Maele | Silbe Mijnlieff | Hali Neto | Jasmijn Obispo | Margot Rijven | Petra Roelfzema | Hennie Spronk | Petra Steindl | Felix Zech DRAMATURGICAL HELP Oscar van der Kruis, Bauke Lievens ASSISTANT DIRECTOR Louis Janssens PHOTO Bart Grietens PUBLICITY Daisy Benz PRODUCED with Veem Huis voor Performance CO PRODUCERS Grand Theatre | Theater Ins Blau | Festival Cement

...........

3 2015-2016

Three men in an empty space. Gathered to create a connection with each other. They are stuck with each other in their search for their own and each other's physical limits. In different ways, they test the boundaries of their friendship. These duels lead to competition, fraternization, pain and sometimes great heights. In a combination of acrobatics, juggling, tightrope walking and three poles, the men challenge both each other and the audience to become a part of a special friendship.

CREW ARTISTS Benjamin Kuitenbrouwer | Jirin Meilgaard | Marco Vermeer CONCEPT artists & TENT END DIRECTOR Klaus Jürgens REPETITOR Hanneke Meijers TECHNIQUE Cahit Metin COSTUMES Minka Parkkinen MUSIC SUPPORT Eric Wels THANKS TO all voordekunst donors | Het Amsterdams Fonds voor de Kunst | Yannick Greweldinger | Niels van der Steen | Zinzi Oegema | Evertjan Mercier | Koster Industrial Textiles | P-S-L | Baldew Bouw Support

...........

NET 2012-2014
Seven circus artists are stuck in a place where nets define the borders. Where success is the greatest good, although no one knows what defines success. Blinded by ambition, passion and jealousy they compete with each other. But there are drawbacks that nobody could have foreseen...NET is a search for the creation of identity, driven by our desire for success. At this time, in relation to others, here and now.
CREW DIRECTOR Laura van Hal ASSISTANT DIRECTOR Hanneke Meijers ARTISTS Yolaine Dooms | Eva Schubach | Milan Seegers | Jirin Meilgaard | Joris de Jong | Minka Parkkinen | Anders Kallesoe Jensen | Clara Groeger SOUND Cahit Metin | Mingo Hagen LIGHT P-s-l Pieter Ratten RIGGING Michel Poort | Rigging Rotterdam MADE POSSIBLE BY het Fonds Podiumkunsten | het VSBfonds | het Amsterdams Fonds voor de Kunst | het Prins Bernhard Cultuurfonds | Circus Elleboog
...........

LOOP 2010-2017
In LOOP six circus artists are struggling with their conscience when making major decisions in their lives. Everyone doubts ... Are they going to follow the familiar road, or do they dare to break their own patterns? The impact of choices on the course of your life, that's what this show is about. The moments in your life when a decision can change your life. Together, all these moments form the course of your life.

CREW ARTIST Cahit Metin | Minka Parkkinen | Joris de Jong | Jorga Lok | Zinzi Oegema | Evertjan Mercier CONCEPT artists with TENT END DIRECTION Laura van Hal SOUND Mingo Hagen LIGHT P-s-l Pieter Ratten COSTUMS Minka Parkkinen

...........

ROMEO & JULIA 2016
In the summer of 2016, Het Amsterdamse Bostheater, TENT and De Veenfabriek join forces to present you a characteristic version of Romeo & Juliet in the unique amphitheater in Het Amsterdamse Bos. Circus, theater and music are the ingredients to bring this immortal story to life. In a hot summer, full of passion and fights, two families are living too closely together. Putting their own lives at stake the young Romeo and Juliet are determined they are made for each other.
CREW TEXT Erik Bindervoet | Ingejan Ligthart Schenk DIRECTOR Ingejan Ligthart Schenk ASSISTANT DIRECTOR Ursel Braaksma ASSISTANT DIRECTOR CIRCUS Hanneke Meijers DECOR Douwe Hibma COSTUMES Johanna Trudzinski SOUND Erwin van den Broek ACTORS Jurriën Remkes | Yara Alink | Sander Plukaard | Ward Kerremans | Sadettin Kirmiziyüz | Camilla Siegertsz ARTISTS Ayla Moes | Tom Mörtl | Julien Pierrot | Sonia Massou | Gilles Thiry MUSIC De Veenfabriek

...........

THE DAY AFTER 2015

Holland Opera, in cooperation with TENT and the Jong NBE on Fort Rijnauwen, the biggest fortress in the Dutch Water Frontline. In 'The Day After' the young Phaëton embarks on a search for his father, and loses himself in the role of reckless adolescent who thinks himself a god. A story about ambitions, insecurity, desire, bluff and decline. In a walk towards the fortress he audience visited three locations on the fortress, where they were treated with a circus act as a taste for the opera.

CREW COMPOSER Jonathan Dove LIBRETTIST April de Angelis CONDUCTOR Niek Idelenburg DIRECTOR Joke Hoolboom CIRCUS DIRECTOR Cahit Metin with Joke Hoolboom DECOR Douwe Hibma SINGERS Erik Slik | Alistair Shelton-Smith | Fenna Ograjensek | Nicole Fiselier | Sandra Botor MUSIC Jong NBE ARTISTS Ayla Moes | Tom Mörtl | Tuk Frederiksen | Lisa Chudalla | Joris de Jong